Music Classes For Toddlers, Juniors & Adults Sydney

Music Classes for  term 3 2019
NEW - Preschool classes at MALABAR in term 3.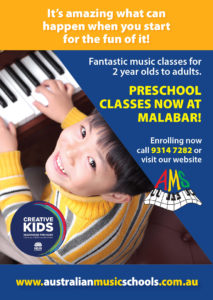 Please scroll through this page for music classes and piano lessons at your local AMS. Classes are listed by location.
For further information on each course, click here: http://australianmusicschools.com.au/courses/
Click here for contact details of our centres in Sydney - Eastern Suburbs,  Inner West, Northern Beaches and North Shore.
New Mini Musos Classes at Malabar Public School
Mini Musos - Preschoolers from 2 to 4 years of age
Thursdays from 11:20am to 12pm.
Please click below for more info and booking link
https://www.trybooking.com/BCWHD
Eastern Suburbs – Randwick Primary School campus
9314 7282  info@australianmusicschools.com.au
---
Mini Musos (2 & 3 year olds) 40 minute class
Tuesday 10.20am, Friday 10.20am
---
Junior Starter for preschoolers (4 – 5 years old) 60 minute class
Tuesday 11am,  Friday 11am, Saturday 2:45pm
---
Junior 1 (5 to 7 year olds in kindergarten and year 1) 60 minute class
please contact our office for information
---
Super Starter (7 to 11 year olds in years 2 – 5 at school) 60 minute class
please contact our office for information
---
Adult Beginners
Tuesday 7:45pm
Please contact City East Community College on 9387 7400 for enrolment
---
Inner West - Dulwich Hill Primary School campus
9314 7282
info@australianmusicschools.com.au
---
Mini Musos ( 2 & 3 year olds) 40 minute class
---
Junior Starter for preschoolers (4 to 5 year olds) 60 minute class
Friday 4pm
---

Junior 1 (5 – 7 year olds in Kindy – year 1) 60 minute class
Friday 5pm
---
Super Starter ( 7 – 10 year olds) 60 minute class
Wednesday 4pm
---
Northern Beaches –
Warriewood Daydream Street 9314 7282
info@australianmusicschools.com.au
---
Mini Musos (2 & 3 year olds) 40 minute class
---
Junior Starter (preschool 3 – 5 year old beginners) 40 minute class
New class commencing this term  - Friday 11:30am
---
Junior 1 (5 to 7 year olds in Kindy & year 1 & 2 ) 60 minute class
Wednesday 4:30pm
---
Super Starter 1 (7 to 11 year olds in Year 2-6 ) 60 minute class
Wednesday 5:30pm
---
---
North Shore – Gordon Pacific Highway campus-
0474 522 642
for all enquiries
---
Mini Musos (3 year olds) 40 minute class
Tuesday 10 am
---
Junior 1 (5 to 7 year olds) 55 minute class
Thursday 4pm, Friday 10:45 am, Saturday 9:30 am, Saturday 2:15 pm
---
Super Starter 1 (7 to 11 year olds in Year 2-5 at School) 55 minute class
Monday 5 pm
---
Adult Beginners 55 minutes
Thursday 6 pm, Tuesday 11:45 am