April 2021 School Holiday Workshops
The kids had so much fun !! 
 
We're home from another incredible AMS CAMP!
We sang, danced, played, created, messed up our teachers and had a blast! We're recovering and we can't wait to do it all again next year!
We had an amazing weekend at the AMS PIANO EISTEDDFOD!
There were well over one hundred entrants in this year's Piano Eisteddfod We had a great duet section and some brilliant solo sections, ages 5 - 17 years.
Gorgeous performances, exceptional memory work, excellent musicality. Well Done everyone! Thank you teachers and parents.
And Congratulations to the winner of the AMS shield for 2019, Nicole Irawan.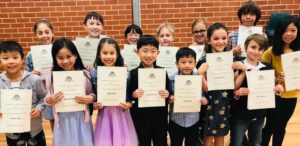 Our CONCERTS were AMAZING!
We had a brilliant day on June 2 at North's Auditorium.
Congratulations to our beautiful performers and our wonderful teachers.
Thanks to our supportive families in the audience!
Photo links will be sent out to families this week - here are a few happy snaps.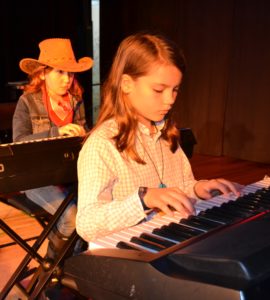 Beautiful performances at the AMS VOCAL EISTEDDFOD!
Thanks to all students, parents and staff - we had a wonderful day listening to our gorgeous vocalists. As always, the Free Choice Sing & Play sections were amazing and our adjudicators, Michelle Madder & Kate Lidbetter were very impressed!
Another wonderful AMS CAMP!
Now that we've recovered, here are some happy snaps from our fabulous camp at the start of the holidays! We sang, sang, sang, played, composed & drummed. We also ate, danced, bubble soccer'd, dressed up and got messy! Film composer Guy Gross visited us to write musical stories with his array of whacky musical instruments. Our choir sounded amazing.
Amazing AMS PIANO Eisteddfod 2018
We had a very busy weekend with some beautiful performances from our little ones right through to advanced students. Teachers & Adjudicators were very impressed with the standard.
Results for each section are on our Facebook page https://www.facebook.com/AustralianMusicSchools/
Special Congratulations to JAMIE KOWITCHIDACHAI, winner of the AMS Performance award and perpetual shield. Jamie is in Miss Lindi' class and has his private lessons with Miss Anna. Jamie performed with technical mastery and musicality beyond his years!
Here is Jamie pictured with AMS Director, Michelle Madder
Our DUET section was super! Lots of fun and lots of great performances!
Lots more results and photos here:
Fantastic Concerts!
Our first 2 concerts were June 3 and we had a wonderful day - Congratulations to all performers, teachers and parents! Thank you to our soloists and especially to our POLYPHONIC students who were our amazing helpers on the day.
Blue Concert Soloists: Gia Rossi, Ella & Sophie McGrath, Gary Koryukin
Orange Concert Soloists: Rhys Shariff, Hannah & Lucy Boyd-Clark, Willow Gelin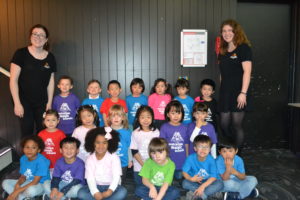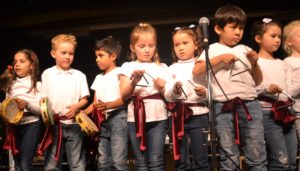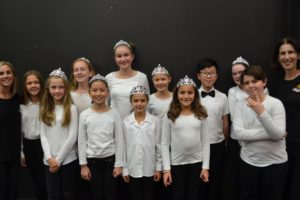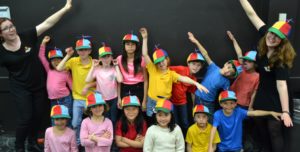 A Wonderful VOCAL Eisteddfod.
Congratulations performers, teachers and parents - the AMS Vocal Eisteddfod 2018 was fantastic. Lots of gorgeous singing and the Free Choice Sing & Play sections were outstanding!
9am Bubbles
1st Sophie Bean, 2nd Caelyn Chiang, 3rd Aiden Hamilton, HC Dorian Eberhardt & Alexander Wines
10am Flying in the Sky
1st Samara Mesk, 2nd Berry Bradley, 3rd Niamh Throsby Dervin, HC Winnie Bradley
11am I see the Light
1st Maddie Evers, 2nd Amelia Edds, 3rd Joe Braund, HC Adele Wong & Hana Ari
12pm Free Choice Sing & Play
1st Alice Bowler, 2nd Kate Osborne, 3rd Ryan Yeo, HC Tallulah Simpson & Lucy Rose Doyle
1.30pm Bubbles
1st Shyla O'Connor, 2nd Emma Yeo, 3rd William Zhang, HC Sebastian Hendricks & Rose Hoyne
2.30pm Flying in the Sky
1st Nadya Lim, 2nd Daniel Millnerm 3rd Alina Meers
3.30pm Free Choice Sing & Play
1st Eden Fernando, 2nd Nisha Katdare, 3rd Auden Graves, HC Zoe Humberstone & Sophia Cherry
4.30pm Free Choice Sing & Play
1st Gia Rossi, 2nd Rebecca Cousins, 3rd Willow Gelin, HC Liv Rey-Laaksonen & Lara Greenfield
We had a blast on AMS CAMP!
100 of us have just about recovered from our wonderful weekend of musical mayhem at the end of last term. We sang, ate, played, sang some more....
Our groups were Ukes, Hands, Tubes, Bucket Drumming & Silent Disco!
We played messy games, we danced, we played Bingo...
The weather was gorgeous, the food was amazing, the company was excellent and the music was spectacular. Can't wait to do it all again next year.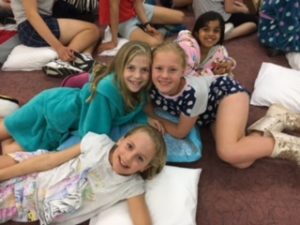 2017 AMS PIANO EISTEDDFOD
We had an incredible weekend of performances from our little kids and our big kids!
Adjudicators Michelle Madder & Kate Lidbetter were very impressed with the level of musicality and the ability of students of all ages.
The winner of the AMS Shield for 2017 is AIDAN ECCLESHALL, pictured here with
Adjudicator Kate Lidbetter & AMS Director, Michelle Madder.
Advanced Grand Final:
1 Rhys Shariff - 3rd
2 Kitty Zusak
3 Alexander Fan
4 Amelia Shariff - 2nd
5 Aidan Eccleshall - 1st
6 Daniel Zhou
7 James Boyd-Clark - HC
Spectrum Grand Final
1 Theo Walsh - HC
2 Willow Gelin - 2nd
3 Elisa Silvestri
4 Nisha Katdare
5 Ryan Yeo - HC
6 Olivia Zein - HC
7 Gary Koryukin - 3rd
8 Jamie Kowitchindachai
9 Liv Rey Laaksonen
10 Nicole Irawan - 1st
11 Alexander Lau
12 Oscar Falvey
Extension Grand Final
1 Zoe Barakate - 3rd
2 Adele Wong - 1st
3 Joe Braund - HC
4 Caiden Weng - 2nd
Junior Plus 9am
1st - Samara Mesk, 2nd - Amelia Edds, 3rd - Lucy Gentille Williamson, HC - Berry Bradley, Son Bach & Monica Milano
Junior Plus 4pm
1st -Riley Joel, 2nd - Jonathan Lin, 3rd - Oriel Shilton, HC - Anson Wong & Yuetong Huo
Beginners 1pm
1st - Emma Yeo, 2nd Rose Hoyne, 3rd - Finn Boxhall, HC - Finnegan O'Reilly
Beginners 2pm
1st - Alina Mears, 2nd - William Zhang, 3rd - Lachlan Brown
Beginners 3pm
1st - Alyssa Jade Felipe, 2nd - Gabriel Kirichenko, 3rd - Emmeline Hartando, HC - Stella Hermans, Henry Moore, Sophie Bean
Our beautiful DUET section!
1st - Ella & Sophie McGrath, 2nd - Hannah & Lucy Boyd-Clark, 3rd - Talia Kaplan & Vivien Fainerman, HC - Emma & Elisa Silvestri, Rhys & Amelia Shariff, Nisha & Vikram Katdare
Beautiful Voices at the AMS VOCAL EISTEDDFOD!
Our first big event of the year was fantastic. Over 120 lovely performances of famous songs. The Free Choice, Open Age Sing & Play sections were amazing.
Thanks to parents and teachers for making this great!
9am Beginners
1st Henry Moore
2nd Sophie Bean
3rd Ames Pearson
HC Sophia Yu & Rose Turner
'Sunrise' 10am
1st Clementine Hendricks
2nd Zoe Barakate
3rd Joshua Greenfield
HC Kiran Sanghvi & Lily Troedson
'Edelweiss' 11am
1st Zara Puntigam
2nd Willow Gelin
3rd Oscar Falvey
HC Siena Flick & Harriet Barham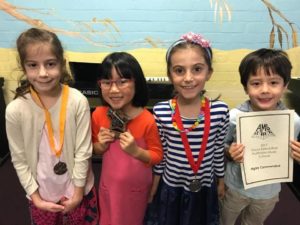 12pm Sing and Play free choice section
1st Oscar Falvey
2nd Lara Greenfield
3rd Ethan Slender...
HC Kate Osborne
Beginners 1.30pm
1st Emma Yeo
2nd Elishka Bartusek
3rd Samara Mesk
HC Aiden Hamilton
'Sunrise' 2.30pm
1st Joe Braund
2nd Hayley Clough
3rd Amelia Edds
HC Charlie Osborne
3.30pm Beginners
1st Nayda Lim
2nd Alina Meers
3rd William Zhang
HC Daniel Millner
4.30 Free Choice Sing and Play section
1st Rebecca Cousins
2nd Jaysen Largent
3rd Liv Rey Laaksonen
HC Tallulah Simpson & Debbie Winter
AMS COMPOSERS DAY
We had a wonderful afternoon of original music!
Well done everyone and thankyou for such beautiful music.
AMS CAMP 2016.... what a blast!
100 of us have just about recovered from an amazing time away together.
We sang, played danced, dressed up, ate, played games and and and....!
There are some more great photos and videos on the AMS Facebook page.
AMS PIANO EISTEDDFOD 2016
Congratulations everyone on excellent, musical performances!
The standard this year was incredibly high with a record number of students chosen to perform again at the Grand Final. There are lots of lovely photos on the AMS Facebook Page:
Congratulations to NICOLE IRAWAN, winner of the AMS Perpetual Shield for 2016. Thankyou and congratulations to Nicole's teachers - Miss Samantha & Miss Anna.
Here are the full results:
Beginner Sections:
1st: Oriel Shilton 2nd: Cindy Huo 3rd: Jonathan Lin HC: Lottie Cleland & Neve Pring
1st: Ivan Zhang 2nd: Adele Wong 3rd: Ames Pearson HC: Finlay Curtes
1st: Lucy Gentile Wiliamson 2nd: Brian Nguyen 3rd: Noah Zusak HC: Samara Mesk
GRAND FINAL RESULTS:
Junior Plus
1 Zoe Barakate
2 Saba Pell - 3rd
3 Arabella Czerwenka
4 Joe Braund
5 Hayley Clough
6 Miranda Xin - 1st
7 Meggie Giuliani - 2nd
Extension
1 Nisha Katdare - HC
2 Jamie Kowitchindachai
3 Theo Walsh
4 Zara Puntigam
5 Benjamin Chia
6 Charmian Goodsir
7 Ella Foreman
8 German Koryukin - HC
9 Claire Whitaker - 3rd
10 Alexander Lau
11 Ryan Yeo
12 Tilly Faure-Brac
13 Abigail Hodgson
14 Ella McGrath - 2nd
15 Nicole Irawan - 1st
16 Benjamin Capaan
17 Willow Gelin - HC
18 Auden Graves
19 Sophie McGrath - HC
20 Oscar Falvey
Spectrum
1 Lara Greenfield - 3rd
2 Eden Fernando - 1st
3 Aidan Greenwood
4 Gia Rossi
5 Conor Greenwood
6 Rory Hodgson - 2nd
7 Kitty Zusak
Advanced
1 Ethan Slender - 3rd
2 Talia Kaplan
3 Jaysen Largent - HC
4 Lachlan Cook - 2nd
5 Aidan Eccleshall
6 Rhys Shariff - 1st
7 Eve Fernando - HC
8 Amelia Shariff
We had an amazing CONCERT SEASON!
The AMS 2016 concerts were fabulous – we loved all of the performances from our pre-schoolers right through to our adults. Thankyou to classes, teachers, parents, soloists and audience for making it so special!
Congratulations to our budding young composers!
We had a lovely afternoon of original music at AMS Composers Day 2016.
Wonderful performances at the
2016 AMS VOCAL EISTEDDFOD
We had a very full day indeed – 10 fabulous sections chock-a-block full of beautiful performances.
Congratulations to everyone – performers, parents and teachers.
We LOVED both of our Free Choice 'Sing and Play' sections – what talent!
The results for each section are on the AMS Facebook page:
https://www.facebook.com/AustralianMusicSchools/
We had a Fabulous time on AMS CAMP!
100 of us spent the weekend together and had a ball – it was musical mayhem!
We sang, danced & played.
We had Uke groups, Tubes groups, Hands groups and Messy Games.
We had Bingo, great food, amazing sing-a-longs & made wonderful new friends.
We have almost recovered and already can't wait til next year!

We've just returned from our first trip for….
AMS in AFRICA!
Miss Michelle, Bill & Miss Lindi visited Nairobi to train 4 young Kenyan teachers
who are now teaching the AMS preschool material in the Angel Kindergarten near the Kibera Slum.
You can see a slide-show of some photo
http://tinyurl.com/lq3upra
And more info on what we actually did here;
https://australianmusicschools.wordpress.com/
AMS VOCAL EISTEDDFOD
Congratulations to our beautiful singers!
We had a wonderful day – the highlight was 2 AMAZING open age sections of Free Choice Sing & Play.
Here are our results:
9am Junior
1st Zoe Humberstone
2nd Alessandro Fatiguso
3rd Finley Humberstone
HC Emilie Kesler & Clementine Hendriks

10am Sunrise
1st Oscar Falvey
2nd Sofia Ignatenko
3rd Emma de Jong-Katz
HC Julia Gabrielsson, Sofie Andersen, Harriet Barham

11am Junior
1st Siena Flick
2nd Auden Graves
3rd Hayley Clough
HC Eliza Farr-Jones & Joshua Capaan


12.00 Sunrise
1st Anneliese Tamberakas
2nd Stacey Greenfield
3rd Leonardo Vaccarezza
HC Lucy Milner & Willow Gelin

1.30pm Tomorrow
1st Talia Kaplan
2nd Eve Fernando
3rd Tali Greenfield
HC Emma Silvestri, Rebecca Colwell & Ruby Miller


2.30pm SING & PLAY open age, free choice
1st Ruby Newman
2nd Tali Greenfield
3rd Rebecca Colwell
HC Lucy Milner, Ed Learoyd, Ruby Learoyd


3.30pm Junior
1st Matilda Sherwood
2nd Violet Millar
3rd Charlie Osborne
HC Gemma Wainstein


4.30pm Tomorrow
1st Sacha Gross
2nd Lucy Rose Doyle
3rd Charlotte Dunn
HC Debbie Winter & Kerri Wainstein


5.30 SING & PLAY open age, free choice
1st Courtney Coates
2nd Jaysen Largent
3rd Alexander Micalef
COMPOSERS DAY – wonderful!
16 talented composers performed their own pieces in a wide variety of styles.
Well done all – we are very proud!
AMS PIANO DUET EISTEDDFOD – terrific!
We really enjoyed the duet performances – great unison, dynamics & musicality.
Thankyou everyone!
prizes:
1st: Tali & Sophie Greenfield
2nd: Vivien Fainerman & Talia Kaplan
3rd: Tilly Madder & Tali Greenfield
Fabulous Concerts!
Thanks to all our families who shared Father's Day with us enjoying our beautiful performers. There was lots of wonderful singing and playing! And we're thrilled to already be receiving emails from parents who loved our day: 'Thank you for the photos. I told Miss Lindi that I thought the concert was very well done. As Daphne is the youngest of four children, I have been to a fair few concerts, recitals and performances throughout the last 13 years. You got it just right and we appreciated the thought and care you put into planning an appropriate program. Thank you for a lovely Father's Day performance. We are looking forward to Term 4.' 'Thank you and all of AMS for organising such a wonderful concert. It was great fun. Lucy loved it. Here are some photos of Mr Jake's Tuesday 5.30 class.'' 'Dear Michelle, We have just got home from our fabulous concert. Each year we thoroughly enjoy the performance. It is always slick, professional and absolutely beautiful, this year was no exception. Angus, as always, had a ball! Thank you to you all.'
We had a great time on AMS CAMP!
We sang, played, ate, jumped, dressed up, sang some more…
We did tubes groups, percussion groups, hands groups…
We learned to play the Ukulele and the nose flute!
We loved being together!
Here are a few photos – a link with lots will be sent to our campers.