Welcome to 2020 - the start of another exciting decade of music at AMS.
Classes commence WEDNESDAY January 29 and the last lessons for term 1 are on Thursday April 9.
The end of 2019 marked our 30 YEAR ANNIVERSARY! Miss Michelle started a little music school in Randwick in 1990 and we're still here! Thank you to our many long-term families for being a special part of our journey. Several of our staff have been with us for decades (literally!) and many more of our teachers are 'home-grown', as they were once AMS students themselves. We've also loved having so many former students become AMS parents and bring their own little ones to class. It's been a privilege to share music with so many wonderful people over the past 30 years.
Here's to another decade!
There are still a few vacancies in our new classes for beginners. Click here for our courses: http://australianmusicschools.com.au/courses/  and here for days and times: http://australianmusicschools.com.au/index.php/classes/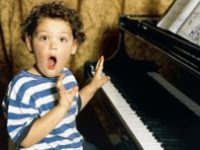 Give us a call on 9314 7282 or text us on 0435 684 674. 
Adult classes are available at Randwick and Warriewood – various levels, with daytime & evening classes. If you're returning to piano, give us a call on 9314 7282 or text us on 0435 684 674 and we'll find a class for you. If you're a beginner, click here for details and to enrol at Randwick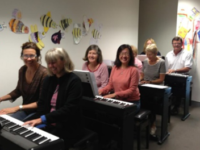 https://www.cec.edu.au/courses?s=piano
and here for details and to enrol at Warriewood
https://www.trybooking.com/BGYCB
We've also got SINGNG for adults at Warriewood – contemporary focus Thursdays at 10.30am and Classical Focus Fridays at 1.30pm
NEWSFLASH - Miss Elisha is running a HIGH SCHOOL VIVA VOICE singing class on Tuesday evenings at Randwick. Come and find your voice, refine your skills and sing music you love! All info here: https://www.trybooking.com/BHKOV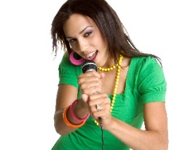 There were lots of fantastic results at the end of last year - congratulations everyone! Click here to read a list of AMS students' achievements from terms 3 & 4, 2019:
http://australianmusicschools.com.au/student-results/
Our big event for term 1 is the AMS VOCAL EISTEDDFOD - SUNDAY MARCH 29.
The Vocal Eisted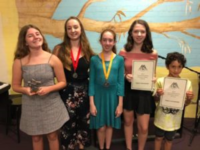 dfod is open to all students from Junior 2 onwards and is a wonderful opportunity to focus on pitch, breathing, posture & presentation in solo singing. We will begin learning the set songs in class soon and a booking link will be sent to all eligible classes.
The SING & PLAY section is a highlight of this event! Extension, Spectrum & Advanced students - start getting your free choice song organised now! (All students will have the opportunity to perform piano solos in the AMS Piano Eisteddfod later in the year).
Creative Kids Vouchers are now closed for term 1 accounts but we will happily pr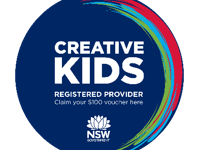 ocess your voucher and apply it to your term 2 invoice. To apply to your term 2 account, please email your child's voucher number and your child's date of birth to ams.sandi.pomirski@gmail.com by Monday 2 March.  All vouchers received after this date will be eligible for use in term 3. (We will send you a reminder a week before term 2 vouchers are due) ☺
Having trouble accompanying your child to class? A parent or regular carer is required as part of our Junior Course. We realise that this can be tricky to organise around parent's work and family schedules. We can help! We have a list of long term, responsible AMS High Schoolers who can be the regular 'carer' for your child in class for a minimal fee. If you're interested in this, either short or long term, please give us a call and we'll connect you with the right helper. 9314 7282 or text us on 0435 684 674
A fantastic resource for helping with follow up at home is the AMS YOUTUBE channel! With videos of each piece in the JUNIOR, SUPER STARTER, JUNIOR PLUS and now also EXTENSION books, this is a wonderful help for parents who have missed a class (or are just having trouble keeping up!) Most pieces have a clip of each hand separately as well as hands together. Follow this link, click on the 'search channel' bar near the top on the right-hand side and type in the title of the piece you need to watch – it's as easy as that! http://www.youtube.com/1ams11   Many thanks to Miss Lindi and Tali Greenfield for putting this together ☺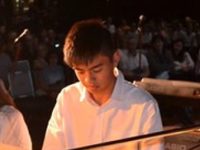 Congratulations Rhys Shariff recipient of the AMS Scholarship for term 1, 2020. Each term the AMS staff select a student who shows enthusiasm and diligence in their study of music.
We often take PHOTOS at AMS events and we love to share them with you! We sometimes put them in our newsletter, on our website, on the AMS Instagram feed or the AMS Facebook page. We know that many of you are 'followers' and enjoy seeing our happy snaps. If you'd ever like to opt out, please get in touch.
Private lessons are an essential part of AMS training on completion of beginner courses. Private lessons provide the repertoire and training to prepare students fo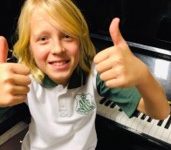 r solo work. Junior Plus students are eligible for fortnightly private lessons and students in Extension & Spectrum need to have a fortnightly private lesson in order to continue with Piano Eisteddfods and Exams. SRS (the AMS Sight Reading Society) is an important focus of these lessons. There are currently limited vacancies at all locations – please reply to this email for a list of AMS teachers and their availability.
Term 1 fees are now past due - Please contact the office if you have not received your invoice. A reminder that the twice-yearly materials charge includes much more than just the AMS book. It covers worksheets, audio files*, eisteddfod and concert backing tracks, all THEORY EXAMS, practice papers and certificates, the AMS Youtube channel, photos from events and much more.
*AMS Audio files – new password! The new family password to the AMS audio downloads page on our website is 2020audio. Just hover over the 'HOME' tab and click on 'Audio Downloads'.  Scroll through to find your current AMS book and either listen to individual tracks or download to your preferred device. If you receive an error message when accessing the files, please clear your cache and try again. Apparently, this is a common problem and quite simple to fix – however, unfortunately it's not something we can fix from our end!
To help our term run smoothly, please remember:
No FOOD or DRINK in classrooms
Mobile phones are banned from class! This applies to all students and all parents. Please switch your phone off before you come into class.
Please remember that we have a 'no sibling' policy and only the child enrolled in the class lesson is to be inside the classroom – we cannot accommodate any extra children in class. Please speak to the office if this is a problem for you. Some locations have a waiting / play area which you are welcome to use.
2020 EVENTS
Term 1
Wed Jan 29 - Classes begin
Sunday March 29 - AMS VOCAL EISTEDDFOD
Thu April 9 - last day term 1
Term 2
Mon April 27 - Classes begin
Mon June 8 - Public Holiday - no classes
Sun June 21 - AMS CONCERTS – ALL CLASSES!!
June dates TBA - AMS Course Piano Exams: Junior / Super Starter / Junior Plus / Extension
Fri July 3 - POLYPHONIC! (High School campers)
Sat July 4 - Monday July 6 AMS CAMP open to ages 7+ from Junior Plus upwards
Sat July 4 - last day term 2
Term 3
Mon July 20 - Classes begin
August dates TBA - ALL PIANO EXAMS Preliminary, Grade 1 and above (please note that these will NOT be offered in term 4)
Sep 12 & 13 - AMS PIANO EISTEDDFOD (including Piano Duet section)
Sat September 26 - last day term 3
Term 4
Mon October 12 – Classes begin
Nov 16 onwards - AMS written theory exams
Nov 23 onwards - AMS Course Piano Exams (Junior/ Super Starter / Junior Plus / Extension. Prelim & grade levels are not offered in term 4)
Sat Nov 28 - AMS COMPOSERS DAY
Tue Dec 15 - last day term 4
Hope you have a great term 1.
AMS Staff